Features important for small businesses
In case you have a very specific website requirements that you know for sure that will never change, you may consider developing a custom website or may be custom CMS. In all other cases you can choose Drupal, cause its ability to adapt, adjust and change your website as needed is powerful. Here is the list of some Drupal features important for small businesses:
* It is the tool that professionals use.
* Offers you tremendous SEO out-of-the-box which means FREE search engine marketing.
* You gain from development that does not come out of your own budget.
* Has a very secure application framework.
* Easy to get a safe, advanced and robust E-commerce website.
* Easy to write and publish new content with no need for technical knowledge.
* No proprietary licensing fees or exclusive maintenance contracts.
* Has a great support community, with very active forums.
* Has amazing project leaders.
* High-end web technologies PHP, AJAX, JQuery, MySQL, W3C-standard XHTML and CSS.
* Is constantly improving, with regular new releases and active development.
* For less than $1000 you can get an equivalent web site and blog for what you would pay a web programmer for $3000 – $6000.
* No limit in design and feature customization.
* Access to large Drupal community of contributors to assist with design, programming, training or consulting.
* Award Winning – Packt Open Source CMS Awards (2009).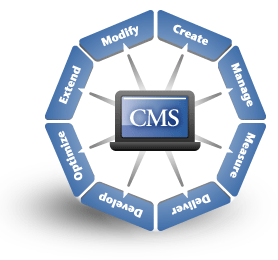 Drupal comes with lots and lots of functionality built in, giving you a great value right from the beginning. Using available Drupal modules, a Drupal site's functionality can be modified to include:
* Video integration
* Polls
* WYSIWYG editor
* eCommerce
* Books/Articles
* Photo galleries
* Event calendars/registration
* Social bookmarking
* Member profiles
Cutting expenses in a weak economy
As the global economy goes bad and small business cut expenses, Drupal CMS could assist in making your business much more productive and profitable. To operate at existing business levels with fewer people and resources you need to automate many of the manual tasks.
This is one of the reasons why Drupal looks good particularly for small businesses and organizations. As you have less money to spend on employees and other resources, it is the perfect time to use this free open source CMS site that will increase automation and profitability in the near future. Following are a some solutions that can be created using Drupal :
* CMS websites
* Events websites
* Social Networking
* Personal sites
* Blogging sites
* E-commerce solutions
* Dating websites
* Media oriented websites
* Job portals
* Real Estate websites
* Law firm websites
* Sports related websites
* Research & Publishing Websites
* Medical websites
For more Infotmation Click here World Of Information.