Good Detail About CLOUD TECHNOLOGY
Massive computing resources, deployed among virtual datacenters, dynamically allocated to specific users and tasks and accessed as a service via an user interface (UI), such as a web browser.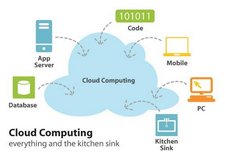 The physical cloud resources may reside in a number of locations, the details of which are not typically known to the service's users.
Cloud resources are offered as a service on an as needed basis. The cloud itself typically consists of large numbers of commodity-grade servers, harnessed to deliver highly scalable and reliable on-demand services.
Cloud Features & Benefits for Enterprises
Highly virtualized and standardized infrastructures
Massive scalability
Fault tolerant & highly reliable
Intra- & Inter-cloud load balance
Instant application deployment
Simplified, more efficient IT and application management
Deliver more applications to large number of users
Excellent service quality
Higher utilization at reduced cost
Time-to-market
No need to install or update SW or HW; access from any browser
Unlimited use
Always on
Access from anywhere
Many services to choose from
Cloud Vendors
There are many companies who are into the market offering various ranges of services on Cloud Computing. The major players are Vmware, Sun Microsystems, Rackspace US, IBM, Amazon, Google, Microsoft, and Yahoo. Cloud services are also being adopted by individual users through large enterprises including Vmware, General Electric, and Procter & Gamble. The vendor hosts and manages the infrastructure required with the respective technology.
Benefit of Cloud Computing
There is a lot of benefit for the business looking for the service from the cloud service provider. Apart from the bundle of suits they have to offer, it focus all an escape from huge investment into IT infrastructure and operating cost.
Reduce Runtime and Response time
For applications that use the cloud essentially for running batch jobs, cloud computing makes it straightforward to use 1000 servers to accomplish a task in
1/1000 the time that a single server would require. The New York Times example cited previously is the perfect example of what is essentially a batch job whose run time was shortened considerably using the cloud. For applications that need to offer good response time to their customers, refactoring applications so that any CPU- intensive tasks are farmed out to 'worker' virtual machines can help to optimize response time while scaling on demand to meet customer demands. The Animoto application cited previously is a good example of how the cloud can be used to scale applications and maintain quality of service levels.
Minimise Infrastructure Risk
IT organizations can use the cloud to reduce the risk inherent in purchasing physical servers. Will a new application be successful? If so, how many servers are needed and can they be deployed as quickly as the workload increases? If not, will a large investment in servers go to waste? If the application's success is short-lived, will the IT organization invest in a large amount of infrastructure that is idle most of the time? When pushing an application out to the cloud, scalability and the risk of purchasing too much or too little infrastructure becomes the cloud provider's issue. In a growing number of cases, the cloud provider has such a massive amount of infrastructure that it can absorb the growth and workload spikes of individual customers, reducing the financial risk they face. Another way in which cloud computing minimizes infrastructure risk is by enabling surge computing, where an enterprise data center (perhaps one that implements a private cloud) augments its ability to handle workload spikes by a design that allows it to send overflow work to a public cloud. Application lifecycle management can be handled better in an environment where resources are no longer scarce, and where resources can be better matched to immediate needs, and at lower cost.
Lower cost of entry
Since the infrastructure is rented, not purchased, the cost is controlled, and the capital investment can be zero. In addition to the lower costs of purchasing compute cycles and storage "by the sip," the massive scale of cloud providers helps to minimize cost, helping to further reduce the cost of entry.
Applications are developed more by assembly than programming. This rapid application development is the norm, helping to reduce the time to market, potentially giving organizations deploying applications in a cloud environment a head start against the competition.
Increased pace of innovation
Cloud computing can help to increase the pace of innovation. The low cost of entry to new markets helps to level the playing field, allowing start-up companies to deploy new products quickly and at low cost. This allows small companies to compete more effectively with traditional organizations whose deployment process in enterprise data centers can be significantly longer. Increased competition helps to increase the pace of innovation – and with many innovations being realized through the use of open source software, the entire industry serves to benefit from the increased pace of innovation that cloud computing promotes.
Free from software licensing/up gradation/maintenance
Cloud computing frees up user from any further licensing of the software or from up gradation and maintenance. All the services are provided by the service providers. No longer having to worry about constant server updates and other computing issues, government organizations will be free to concentrate on innovation.
A mobile profile
Since all is accessible through internet, it will be accessible globally. It will be too much beneficial for a small and medium sized enterprise that is not willing to invest a lot in network setup and wish to free from maintenance.
For more Infotmation Click here World Of Information.